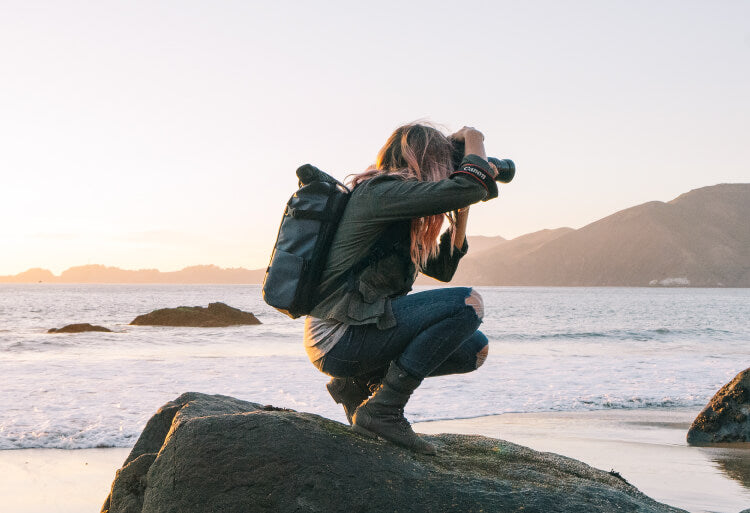 Return or Exchange Questions
What is your return or exchange policy?

All items purchased on our website (with the exception of hats, face masks, mask filters, socks, crowdfunding pledges and final sale items) can be returned or exchanged for up to 30 days after your purchase date.
How do I start a return?

Please fill out our Return form by clicking here. After finishing the return info, you'll be emailed a return label (If that's the option you chose for shipping the return). Please remove any original shipping labels and replace them with the new return label, drop it off at the nearest carrier and we'll send you emails throughout the return process!
How can I make an exchange?

Please fill out our Exchange form by clicking here. After finishing your exchange info and choosing your replacement size/color, you'll be emailed a return label for the original item (If that's the option you chose for shipping the return). Please remove any original shipping labels, replace them with the new return label and drop it off at your nearest carrier. Once the original item is received and approved with our warehouse, your exchange order will process within a few business days! We make sure to send you automated emails throughout the entire process so you're never left guessing.
What items CANNOT be returned?

Hats, socks, face masks, mask filters, crowdfunding pledges and final sales items are not returnable or exchangeable.
I backed a product on Kickstarter (or other crowdfunding platform), can I return it?

Crowdfunding pledges are considered final sale items. These are non-returnable and non-exchangeable.
How can I return or exchange a gift?

All returned items need to be identified (linked to an order number and a buyer). If you've received the product as a gift, please reach out to your friend/relative and ask for the order number. This order number will need to be indicated in the return. By default, we will refund the corresponding amount of the returned goods to the original method of payment used to place the order. If you'd prefer to have store credit in this case, you can select that as an option in our returns form!
In what condition should the items be in that I am returning for a refund or exchange?

All items returned for a refund or exchange need to be new, unused, in its original packaging and with every original tag still hanging in the correct location. Please note that each return is opened and thoroughly checked by our inbound team and any item deemed as unfit to be restocked will be quarantined. WANDRD reserves the right to issue partial refunds in such cases.
What happens if I no longer have the tags/original packaging for the items I wanna return?

We do not accept returns or exchanges on items without their tags still attached in the correct locations. Items returned without these tags against policy will be subject to a 20% restocking fee.
Does WANDRD provide a shipping label for my return/exchange?

For most regions, yes! After filling out our returns or exchange form, you'll be emailed a return label for the original item if that option is available in your region. For returns, we provide our discount with the carrier to get you the best price for the return label. This price isn't charged extra, it's simply taken out of your full refund once the return is approved.  For exchanges, we cover the inbound shipping back to us, but ask that you cover the outbound shipping for the new item.
Do I have to pay for shipping on exchanges?

We offer free return shipping for most regions on the original item being exchanged, but we ask that you cover the outbound shipping and import duties (when applicable) on the new exchange order as well as the original.
If I select, "Ship on your own" for my return, what carrier and options should I choose to ship items back to WANDRD?

Please make sure you ship back your items using a reliable carrier and ensure the return information is printed clearly and placed carefully inside the box! Without this information we are unable to locate your order to refund it.  In addition, please make sure you select a carrier that will provide you with a tracking number for your own piece of mind. WANDRD is unable to issue refunds for lost returns in transit.
You gave me a return label when I set up my return, does it expire?

Once a return label is issued, it stays active for 30 days. After that it's voided by the carrier and we are unable to reactivate it.
How long will it take to receive my refund?

Once the returned package is received by the warehouse, it's scanned, inspected and restocked.  We will send you emails throughout this entire process, but please allow up to 15 days for the refund to be issued.
Are original shipping costs & customs duties refundable?

Original shipping costs paid when you placed your order, Route shipping insurance and customs duties (if applicable to your case) are NOT refunded when an item is returned. These services were already performed and paid for when your item arrived originally, so we're unable to refund them.
Is Route Shipping Insurance refundable?

Route shipping insurance is not refundable.
I purchased a bundle, can I return each item individually?

For inventory and accounting reasons, split bundle returns are currently not accepted. If an item in your bundle is not to your satisfaction, please return the entire bundle new, unused, with all tags attached and in its original packaging.
My order came with a FREE gift/item, should I return it as well?

Even if you return your gear, we consider you part of the WANDRD family, so feel free to keep any freebie!
I received a refund notification but where is my money?

Once the item is accepted at our warehouse and refunded by us, it can take your financial institution up to 3-7 business days to post the refund back to your account.
I selected a Gift Card for my refund. Where is it and how do I use it?

Once your item has been accepted and refunded by our warehouse, you should receive an email within 24 hours that will include a gift card code for the amount of your refund! You can use this code on the site and purchase some rad new gear! Please make sure to check your spam or junk folder just in case it gets sent there!